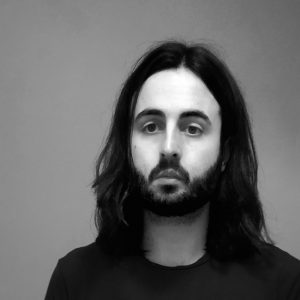 Benjamin Meeson is a British abstract artist living and working in Shrewsbury in the United Kingdom.
From an interest in the history of the hard edge, geometric abstraction and perceptual art, Meeson's practice considers themes of movement, transformation, perception and thought through the potential of pictorial space.
His approach concentrates on the language of geometry, pattern based thought processes and systems. His methodologies enable Meeson to alternate between the experimentation of process and the exploration of rule based compositional logic.
Hand drawn with meticulous precision in ink and brushed acrylic on paper, his graphic hard edged shapes and reduced palette are a deliberate rejection of emotionalism. Instead Meeson places priority on the formal elements of line, shape, space and form. In combining these elements the hard edge conducts surrounding space, exploring perceptual reorganisation and the spatial potential of surface interpretation.