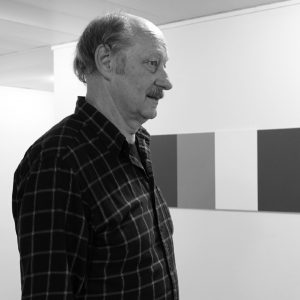 Daniel Göttin is a Swiss artist whose work is divided between site-specific work and coloured or painted objects for walls. He lives and works in Basel.
Göttin is working with common industrial material which can be paint, tape, wood, metal, polystyrene, plastic, carpet. The concept for an installation work depends on the site and its conditions. For his objects and paintings, he uses similar material. His interest and concept are to examine the subjective nature of perception, and playfully responds to the characteristics of an architectural site or space and activate the viewer's relationship to it. In the series of works made of aluminum and painted MDF, due to their simplicity, the attention is directed to the space within the object, corresponding with the reflection of light and shadow. Thus creating a new quality of perception between concrete and abstract  reality.
His artistic background relates mainly to Minimal Art , Concrete Art, and Conceptual Art. Besides these art tendencies he works also with aspects of Dada/Merz, Constructivism and Arte Povera. For more than 25 years, Daniel Göttin has focused on making temporary and permanent site-specific installations and interventions, Art in Public Space, objects, paintings, drawings, collages and prints.