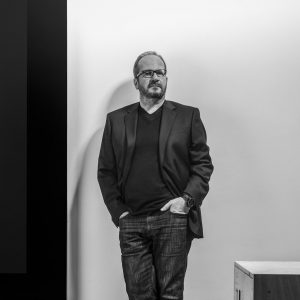 Gerold Miller born in 1961, in Altshausen (Germany), he lives and works in Berlin.
Miller studied from 1984 to 1989 sculpture at the Academy of Fine Arts in Stuttgart with Jürgen Brodwolf. From 1989 to 1992 he received a scholarship from the state of Baden-Württemberg, in the following years he received other scholarships in Paris, Poznań and Sydney.
Miller's aluminum walls and glossy paintwork represent an exploration of a pictorial presentation in the space between painting and sculpture. His interest lies in the thin lines in which the three-dimensional object becomes a two-dimensional surface and where objectivity is transformed into abstraction. In the Total Object series, Gerold Miller studied the connections between minimalism, pop art and design. His works oscillate between being "objects" and being "tableaux"; between abstract and reality. The monochromatic void is transformed into the protagonist, representing everything and nothing, while the interaction between matt and glossy lacquer or contrasting color gives rise to a virtual space behind the image plane. His works, consisting of highly reflective two-dimensional panels and covered with layers of industrial glaze, can be defined as wall sculptures or architecturally reactive works.