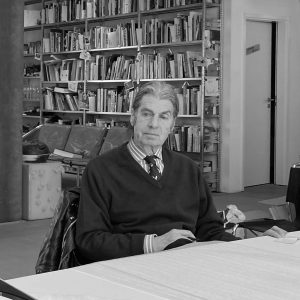 John Armleder (Swiss, b.1948) is performance artist, painter, and sculptor, known for his involvement with the Fluxus group of artists and his association with the Neo-Geo movement. Born in Geneva, Armleder attended the École des beaux-arts there between 1966 and 1967.
Armleder, along with Patrick Lucchini and Claude Rychner, was the founder of the Galerie Ecart, which acted as a performance art space and independent publishing house, and brought a number of renowned artists to Switzerland, including Joseph Beuys and Andy Warhol.
Working in a variety of media, since the 1990s, Armleder has created installations, paintings, wall paintings, and "furniture sculptures"—installations which juxtapose furniture with paintings, which are either literally placed on the furniture or are hung on a canvas nearby. Much like other members of Fluxus, Armleder is concerned with creating anti-establishment, anti-commercialist works.
His works have been shown in exhibitions around the world, at venues such as the Kunsthalle Zürich, the ICA in Philadelphia, the Museum of Modern and Contemporary Art in Geneva, and the Dairy Art Centre in London.
He lives and works in Geneva, Switzerland.